WHAT IS A HYDRAFACIAL?
Hydrafacials combine exfoliation, pore cleansing, light therapy, and more to deliver the ultimate facial experience. They are a type of hydradermabrasion, and can be thought of like a regular facial – except that they have more potent effects, and utilize a vortex enabled mechanical wand. This non-ablative and non-invasive procedure is used primarily for intense cleansing, skin lifting and firming, and rejuvenating effects. Different hydrafacial treatments can be used to treat acne, hyperpigmentation, signs of aging, greasy or dry skin, textural concerns, and fine lines. Redness or overall drab skin can also benefit from this procedure.
Hydrafacials are delivered via the HI-SKIN skin care instrument, an advanced technologically outfitted device that features multiple handles and nozzles for various effects. Some hydrafacial handles even include high definition cameras that can allow your provider to take a close and in-depth look at your complexion for proper skin analysis. The hydrafacial experience can be personalized, but may include several steps, including cleansing (which may feature a chemical peel), exfoliation, the infusion of nourishing boosters, and sometimes LED light therapy.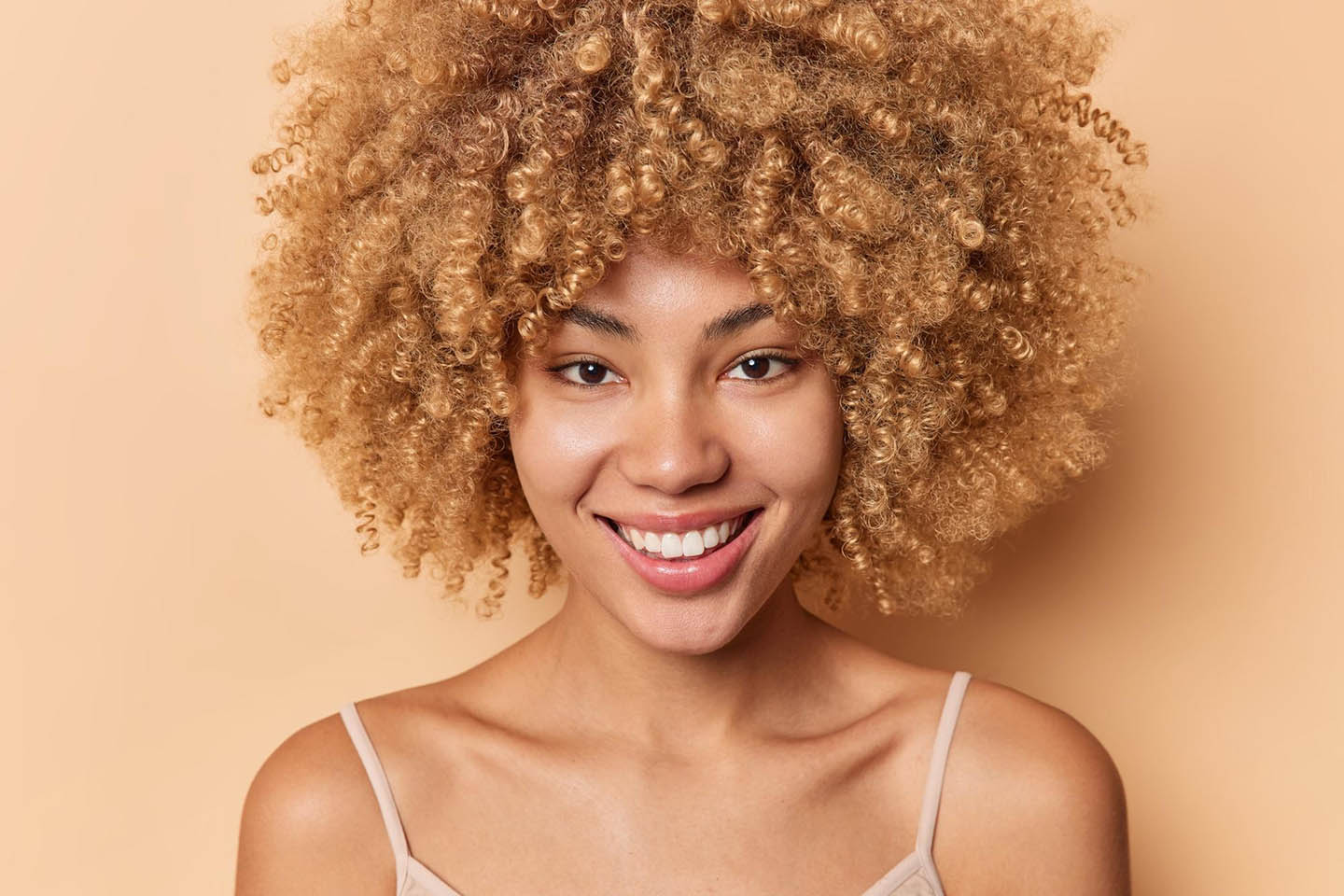 WHY SHOULD I GET A HYDRAFACIAL?
For a lot of people, skin is one of the greatest contributing factors to our beauty and self-confidence. When your complexion is glowing and radiant, it can make a major difference in how you present yourself to the world. Those of us who have dealt with acne, hyperpigmentation, or early wrinkles are well aware of the transformative power of rejuvenated skin. Some of us have long a list of concerns regarding our skin, and are eager to put a checkmark next to our personal skincare goals.
When it comes to achieving dermal elegance, getting a hydrafacial is a wonderful way to achieve a smooth and even skin surface. A hydrafacial can address a large host of skin concerns. For example, one of the biggest aesthetic struggles for a lot of people is acne. Reddish bumps and painful cysts can be hugely detrimental to your self-image; people who suffer from it tend to deal with personal shame, low self-esteem, and a sense of being unworthy. Having your face obscured with angry reddish marks can affect your quality of life. A hydrafacial can help improve a breakout by delivering deep cleansing action to the skin, combating redness and blackheads. Because blackheads are clogged and polluted hair follicles, the decongesting and suction effect of hydradermabrasion can help clear them.
Acne isn't the only textural issue people grapple with. Fine lines and wrinkles are often especially bothersome to older patients. These are usually the greatest sign of aging and are most heavily located in the most dynamic parts of the face. That means the eyes and area surrounding the mouth tend to experience the greatest or earliest signs of creasing. Over time, the face also loses fat, collagen, and elastin, meaning its structure begins to fade. With this comes sagging as gravity allows the skin and flesh in your face to droop downwards. While developing lines and laxity in the face is normal over time, managing it can help keep your skin looking youthful and fresh. The hydrafacial targets wrinkles through a variety of methods, from face lifting RF energy to hydrating solution spraying.
A lot of patients seek out hydrafacials when suffering from rosacea. Rosacea presents itself as red and irritated-looking skin. Roaztrol serum, combined with red light LED therapy, can affect neutrophil chemotaxis and inhibit reactive oxygen species, soothing skin inflammation. Therefore, patients can receive relief from heir rosacea.
Finally, skin dryness and bothersome pigmentation are also concerns that a hydrafacial can address. Skin dryness can come from a host of factors, both genetic and environmental. Pigmentation on the skin is often a result of acne scarring and exposure to UV rays over time. A hydrafacial can have both exfoliating and hydrating effects, sloughing off dead skin cells to reveal fresher, newer skin. Hydration can lend the skin extra strength and healing support. This can be beneficial both for those with more mature skin, and for younger patients who are looking to prevent early signs of aging and keep their skin looking clear and healthy. With a hydrafacial, you can take your skin from looking dull, drab, and lifeless to looking revitalized and renewed.
WHAT HAPPENS DURING A HYDRAFACIAL PROCEDURE?
The HI-SKIN machine used in a hydrafacial features a hydrogen oxygen hydro dermabrasion handle. The handle is equipped with several different handles, such as the ultrasonic vibration skin cleaning handle or polymer atomizing spray handle. These handles also feature variable nozzle heads that can be switched out and chosen based on different concerns. For example, the microdermabrasion head can be used for texturing, scarring, and pigmentation issues. The hard turbine hydro cleaning heads and soft silicone hydro cleaning heads are great for deep, rejuvenating cleansing, as is the pipe cleaning head.
During a hydrafacial treatment, these nozzles spin clockwise and emit a solution straight to the skin. Meanwhile, any waste during treatment is sucked back into the container through rivets in the nozzle. The procedure itself takes around 30 to 45 minutes. If you decide to receive an LED light therapy session after you facial, this will tack on an additional 10 to 15 minutes.
In terms of the type of serums used on you, this is something to discuss with your provider as you assess your main complexion concerns. The most common serums, also known as boosters are DermaBuilder, Rozarol, Britenol, and ReGen GF. DermaBuilder is a collagen stimulator, and is therefore great for offering the skin support and suppleness. ReGen GF has a similar effect, encouraging the production of collagen and elastin in the skin for a firming and hydrating result. Rozatrol is a mix of sunflower seed oil, rosa canina extract, potassium cetyl phosphate, glycerin, and water; if you have red, inflamed skin, Rozatrol is beautifully soothing. Finally, Britenol includes Vitamin C and Alpha-Arbutin. These are best implemented to improve the appearance of those impacted by sun damage and hyperpigmentation. 
Depending on your overall skincare routine, the outcome of your hydradermabrasion will likely be most apparent for the first two weeks after treatment. Hydrafacials are not intended to provide one permanent solution to complexion issues, but rather as a maintenance procedure to keep skin looking healthy. If you're wondering how often it's necessary to get a hydrafacial, this can vary from patient to patient. It does not require routine check-ups, but, if you like your results, return visits are encouraged to keep up a radiant complexion. You can get a hydrafacial once or twice a month for confidence boosting self-care.
In terms of post-procedure aftercare, you have nothing to worry about. You can leap back into your everyday routine with no worries. In fact, many choose to get a hydrafacial a day or two before an event to show off a luminous complexion. You can also carry on with your own skincare routine as normal. Wearing sunscreen can help protect you from UV rays and maintain the look of your skin.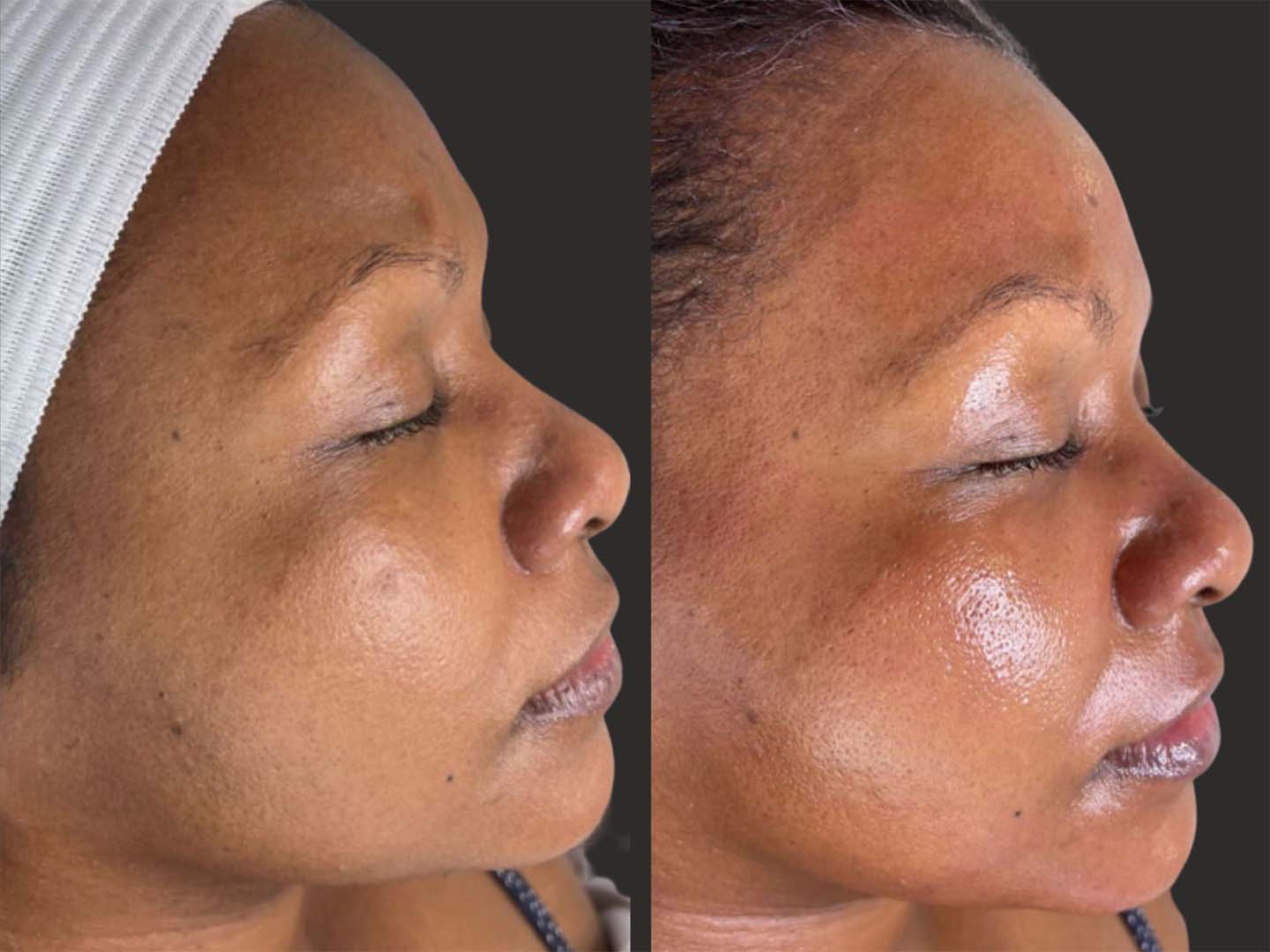 WHAT DOES A HYDRAFACIAL FEEL LIKE?
A lot of noninvasive or minimally invasive cosmetic procedures are relatively painless, but may still come with a bit of discomfort. Hydrafacials, in contrast, are pain-free treatments that for many actually feel good to receive. If you've ever gotten a facial –– depending on what type you got –– you know how ultimately calming and refreshing it can feel. Hydrafacials are much the same, giving you the chance to treat yourself and your skin to a bit of TLC.
HOW MANY DIFFERENT HANDLES DOES A HYDRAFACIAL MACHINE FEATURE?
Hydrafacials utilize a myriad of advanced handles to deliver specialized results and enhanced treatment functions. THe HI-SKIN multifunctional skin care machine may implement one of six different handles, all with their own unique designs and purposes. Let's take a quick review of all of them to give you an idea of the various applications of this treatment.
Some of the handles are specialized for hydrating effects. One of these is the polymer atomizing spray handle. The polymer atomizing spray handle boasts high-pressure atomization power, with which it turns liquid solutions into a sprayable mist. This mist penetrates the dermis for ultra hydrating power. Hydrated skin following a hydrafacial looks healthier and is more able to heal itself over time.
For deep cleansing and penetration, there is the ultrasonic introducing handle. The ultrasound introducing handle allows pores to breathe by delivering ultrasonic vibration; once pores are opened, the treatment solution can easily sink into the basal layer of the skin to work its magic. The ultrasonic vibration skin cleaning handle similarly employs high-frequency ultrasonic vibrations for pore purification. It can help treat skin keratinocytes and remove dirt, grime, and dead skin cells for a cleansing and exfoliating effect.  
When it comes to creating firmer, plumper skin, the bipolar RF handle with dual nubs can be used in a hydrafacial to a dermal tightening effect. By encouraging the production of collagen –– the primary structural component of the skin –– this can make the face look younger and smoother overall. If you are looking to combat skin laxity, texture, and wrinkles, this is a great go-to. Next up, you may want to consider the cool RF and Cold hammer option. The cool RF and Cold hammer handle utilizes both cooling and heat energy. While the epidermis is cooled by the handle, the thermal RF energy penetrates deeply into the skin to strengthen deeper layers via collagen stimulation. When used only as a Cold handle, with the RF energy function switched off, it has a soothing effect on the outer layer of the skin, toning down redness and minimizing the appearance of pores.
A hydrafacial can also use the HD skin detection probe. This probe features an ultra high-def camera for precise evaluation of the skin. Boasting a resolution of 1280*104 and 5,000,000 pixels, the HD skin detection probe allows the provider to take a closer look at your pores, skin texture, and unique concerns for a complete skin profile.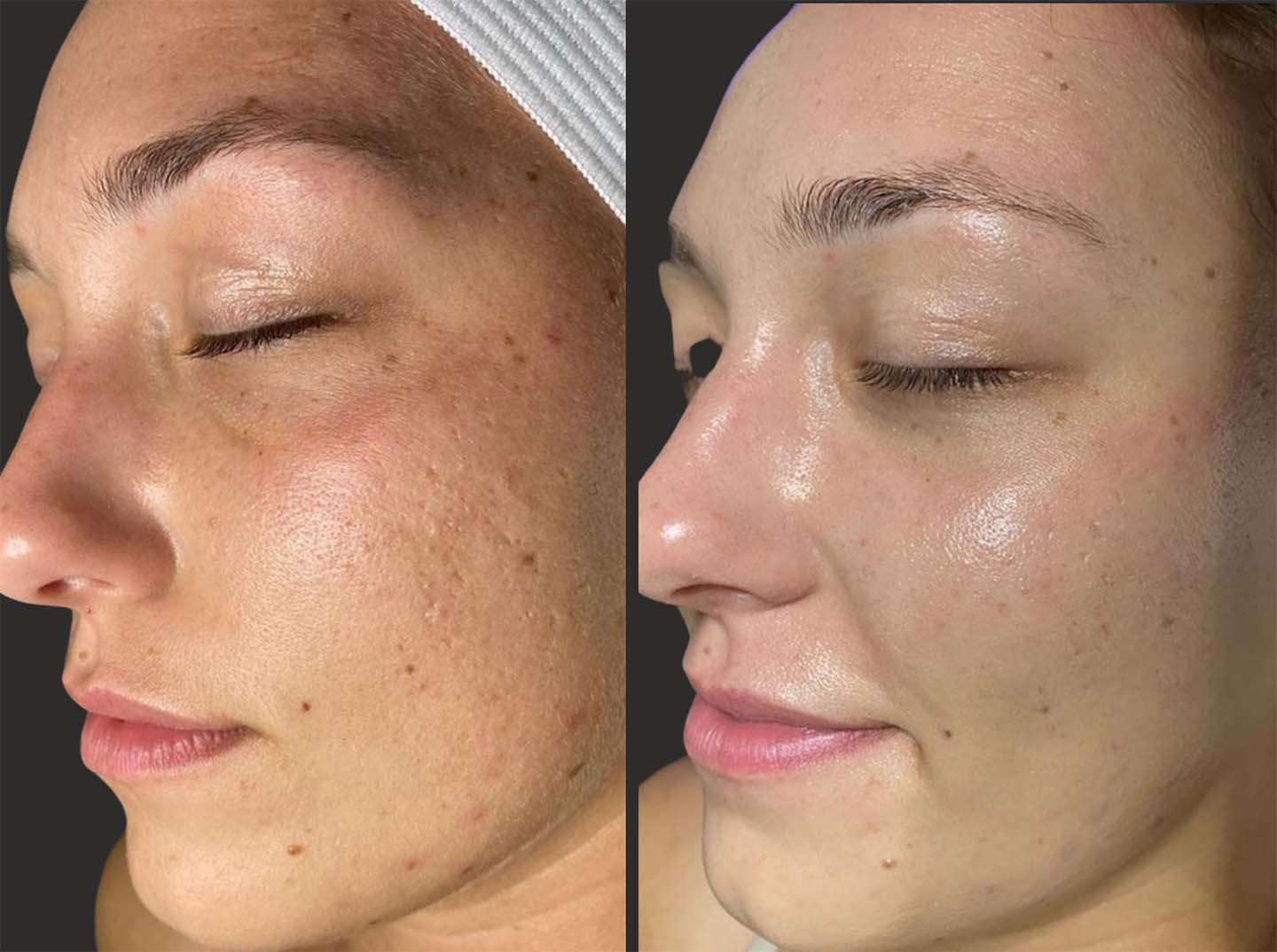 IS A HYDRAFACIAL THE SAME THING AS A CHEMICAL PEEL?
A hydrafacial and chemical peels can be compared as two methods to brighten, cleanse, and exfoliate the skin, but they are not the same. Chemical peels usually consist of salicylic acid or glycolic acid, and are used to get rid of dead skin cells and treat texture, such as fine lines or acne. Deeper chemical peels mighty use AHAs or BHAs for a more significant effect. Chemical peels are often much harsher on skin; they have a recovery period in which the outer dermal layer might peel, turn red, or even blister. Hydrafacials, in contrast, are a much more gentle approach. Using vacuum suction, exfoliating action, and the application of certain serums, hydrafacials can cleanse and hydrate the skin. If you are willing to undergo a bit more time and discomfort for a more significant effect on your complexion, chemical peels may be more beneficial for you. Hydrafacials are not quite as intense or effective, but can help rejuvenate and maintain a glowing complexion.
ARE THERE RISKS WHEN GETTING A HYDRAFACIAL?
Hydrafacials, much like regular facials, are considered low-risk. If you have sensitive skin, there always exists the possibility that some part of the process might irritate you. If you deal with heavy acne or another skin condition, talk to your provider about the possibility of a breakout or irritation occurring. You should also make your provider aware of skin allergies that may cause you to have a reaction to the serums.
While there is no research to suggest that hydrafacials are dangerous to pregnant women, it has not been studied enough to rule out side effects. If you are pregnant or breastfeeding, it's best to consult with your doctor before getting a hydrafacial, as some serums –– like salicylic acid –– are not recommended.
Certain cosmetic procedures, such as Fraxel lasers or RF microneedling, can help even out texture while still running the risk of causing breakouts. Fortunately, hydrafacials do not require the use of thermal intervention, which is what can cause acne to reappear. On the contrary, hydrafacials can improve acne by cleaning away dead skin cells, grease, dirt, and buildup under the skin. If acne is a concern for you, talk to your provider about this so they can use a serum that can help combat pimple-causing bacteria.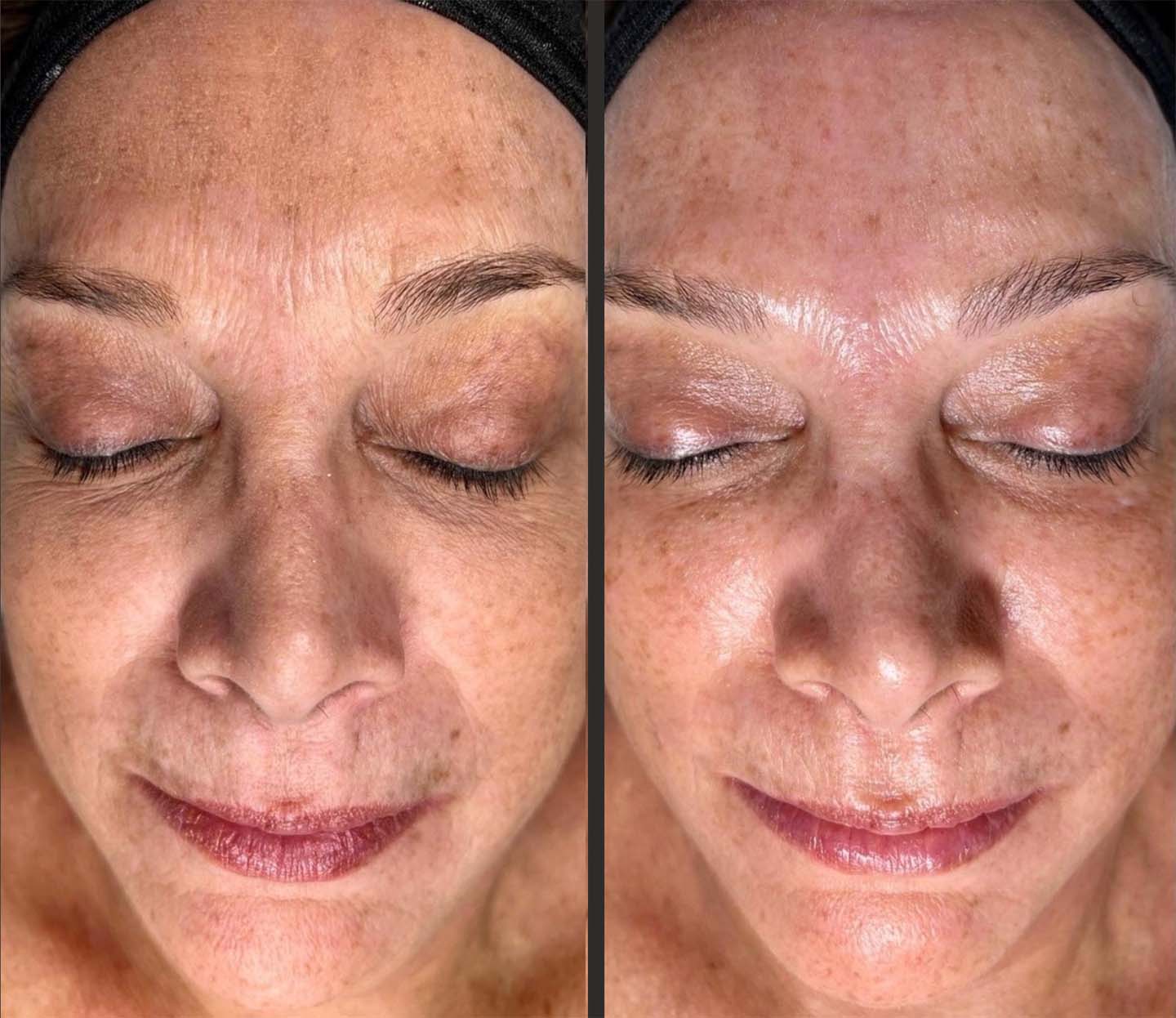 HOW EXPENSIVE IS A HYDRAFACIAL?
Compared to some other cosmetic procedures, hydrafacials are on the lower end of the cost spectrum. Where you end up getting your hydrafacial certainly plays a role in this, as big cities or more experienced, highly reviewed providers might charge more. In New York City, you can expect to pay around $250 to $500 for a hydrafacial. Your specific skin issues will also play a role in the final price. Depending on what kind of effects you are looking for, different serums and therapies can be used, each of which vary in cost. If you return for multiple sessions, this will, of course, also tally up the cost. To get a better idea of how much money you might spend on a hydrafacial, it's helpful to talk to your provider and see if you can get an evaluation before deciding on this procedure.
WHAT ARE THE BENEFITS AND DRAWBACKS OF A HYDRAFACIAL?
Hydrafacials are well-tolerated, gentle, and non-invasive ways to give your skin an extra beautifying and confidence-lifting boost. Nourishing serums help cleanse, exfoliate, and hydrate the skin, while impurities are removed. A relaxing hydrafacial session can be just what you need to restore dull or lackluster skin into a clean, vibrant visage. Post-hydrafacial, many patients also receive added benefits from blue or red LED light therapy. These can help prevent acne and combat facial redness.
The downside of hydrafacials is that they do not yield hugely transformative results. If you have deep acne scars, severe skin laxity and folds, or more apparent existing wrinkles, a hydrafacial isn't going to completely transform your skin or fix these issues. If you are looking for something to address these concerns more effectively, other minimally invasive or noninvasive skin treatments –– such as Botox, fillers, or lasering –– might be more beneficial for you.